I love stuff. I'm happy when I'm surrounded by it. I eat it. I make it. From time-to-time I buy more of it. However, Sara was nonplussed when it was the answer to her question about what I wanted to see in Italy. So she made me do it. And it was a wonderful day.
Our funky hotel had a neat self-service breakfast bar, with a machine dedicated to making hot chocolate (latte or strong). I picked up a newspaper. Hmm, new Ferarri F1 car announced. Neat. I thought of it no more as we found an ethernet cable hidden behind the television back in our room.
Our first task today was to get out by 9am, so that we could visit a balsamic vinegar factory tour at 10am. After all, this was Bologna, the backstreet alleyway to Modena: the Balsamic Vinegar Capital. After Sara had tackled a particularly thorny bureaucratic problem with music books from Amazon many time zones away, we noticed that our own time zone had passed to 9:30 without asking us first. Oh well. We left for our second destination.
We took the back roads. Not intentionally, but because we were still coming to grips with roadmaps and signposts. I think the planners' thought processes went like this: "if a sign on a post helps you get to your destination, then 20 all on the same post would be even better; but we'll have to make the writing smaller to fit them all on." This was the first time we'd driven in sunlight, and it wasn't much easier to navigate than in the dark. A lot of the countryside looked like this.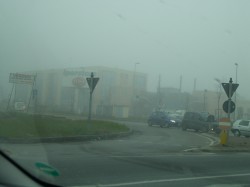 But we were headed towards stuff. The kind of stuff found in Maranello—very expensive stuff! So expensive, that the people to make the stuff dress like this: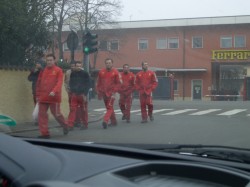 So expensive, that people who visit here, can't even buy the stuff, except in miniature in little chintzy stores like this: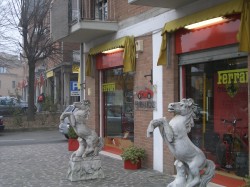 Yes, high-performance Ferrari stuff! This was where the newspaper should have tipped us off. The Ferrari Museum had a huge, empty, parking lot. There was a youngster guarding the entrance, shooing people away. Every street parking spot was taken. In the end Sara dropped me at the entrance while I went in and breathed castings, engines, valve trains; and just simply gorging in the aura of the place.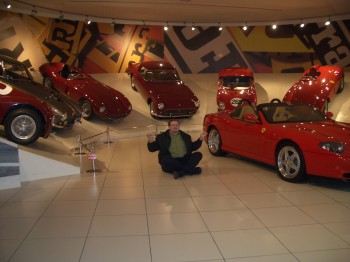 There was a press junket inside one of the rooms. The new F1 car was being unveiled here today. Back outside in the parking lot, this was now making more sense.
Anyway, wonderful stuff; even if we couldn't get into the factory. On the way out of town we tried not to run over the flash of photographers that were milling on the road bridge by the racetrack, scampering from one side to the other as the new red car screamed nearby.
We took a quick peek at Modena, and found where we should have been in the morning. We didn't find any Balsamic Monster Marts though. To make up for it, we did find the most prestigious school in the area.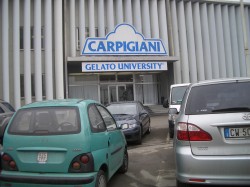 We were heading back to Bologna. No, our navigation skills were improving—my darling and wonderful wife had booked me in to see the stuff at the Ducati Factory!
Unfortunately, they don't permit photos inside the factory. Something about thousands of pictures of workers appearing on crazed motorcycle fans' web sites not being proper. But it's a wonderful tour. I was the only English speaker that day and I got two rather tasteful female tour guides all to myself. Here's what I gleaned (you can skip this next paragraph if you're not interested in making motorcycles: Sara read a book).
Ducati, since the refinance, orders most of its parts from other suppliers. We entered at the CNC machines that take head castings and turn them in to cylinder heads. This was the only specific on-site manufacturing. From there, we went to engine assembly (and my guides didn't seem too upset when I kept stopping to look at stuff). Each engine is built by one person, who grabs a shopping cart, a list and a bunch of engine stuff. Then he (a few 'she's were building them too) would find a wonsole and build an engine for the next two hours. I wonsole is a word I made up for walking console. It's like a desk, with an engine jig, that moves very slowly, so you have to keep walking with it (and pulling your cart) while you build the engine. It actually seems quite a nice way to do it—like an assembly line, but you stay with your stuff. By the time you need a specific tool, you've more-or-less walked up to it. And you get to keep moving, rather than staying flat on your feet. After that, the engine goes on a cool-test for several minutes; where the crank is spun and various metrics checked. (Presumably stuff like compression and whether any large pieces of metal have come out in the oil or exhaust.) Then it's on to the bike assembly line. It's the same type of thing (except there are four or so lines for each model of bike). We walked down the Monster aisle (half the bikes built by Ducati are Monsters), but I kept my eye on the 1098 line. The 1098 is a gorgeous bike. Sigh. After a few hours, the bike is assembled and it goes onto the emissions test, then on to the dyno for a few minutes. Imagine getting to ride a hundred 1098s a day, yet never going outside. Tragedy. I also got to see the new enduro-style Multistrada. Neat. My guides dragged me out of the factory and into the museum (which was interesting, but the factory was better; for example, did you know that Ferrari bought the "prancing horse" logo from Ducati?). Also I got to debate the merits of Honda's V-4 versus the Triumph Triple with an Australian guy who was dragging his wife around the museum after having seen the Lamborghini factory earlier (she was trying to be into it and was putting on a cheerful face). Ducati, of course, favors the 90-degree V-twin. I clearly need to understand the merits of this layout; perhaps I can persuade Sara to support me in this venture? All too soon it was time to leave.
The time zone had caught up again, and it was now dark and I found Sara patiently waiting in the car for me. Now we were heading to Florence: seat of banking power in the middle ages. We drove off. A few minutes later we were back at the factory: I think I'll call it confogna: the confusion of driving in Bologna. Little did we know….
The Autostrada is quite interesting. The lanes are narrow, which doesn't really matter because the Italians don't seem to be bothered by the lines between them. The road to Florence is quite twisty and scary at night. Even stopping for gas was a challenge (but a challenge with pretty good restrooms). Sara slept, I gripped the steering wheel. Eventually we popped out of the toll booth at Fiorenze Certosa.
A explained about driving in Italian cities didn't I? The guide book had a helpful section on driving in Rome. I reproduce it here in its entirity.
Don't.
This applies to Florence too. After an entertaining few hours of driving in circles ("hey look, there's the railway station again!"), and drawing on the map which way the streets go so that we could systematically exclude streets that couldn't get us to our hotel, we did eventually find the road. (The name the hotel gave, which was also marked on the map, was not the same name as on the street sign.) So I made an illegal right turn on to it. (The police seem to understand the visitors' problems: when they stopped us earlier while going the wrong way down a cycle lane, they just held traffic and helped us to turn around, then waved us away.)
But if you think that's the end of the story, I still had to find overnight parking after double parking to unload the bags. After another hour of going round in circles, I eventually found Christoph, who spoke a little English, and he guided me to the parking lot by walking me there. I was not surprised I hadn't found it. There was a tiny barrier in a non-descript piazza. There was a ramp past the barrier. I would never have suspected that the tiny outpost would be the largest parking lot I think I've ever seen. All underground.
Anyway, back in the hotel we munched on croissants, which was the only thing to be found to eat at that hour. We slept. I dreamed of stuff.