It's all been happening the last couple of days. I spent pretty much all Tuesday at work getting the memory management rethought for the demo on Wednesday. When I got back home, I put two coats of base on the texture (you can barely see the join!) and flopped into bed, just in time to wake up for demo day.
After the demo (successful!) I had to run out to meet Sara (she looked gorgeous) and the photographer for pre-wedding photos in the park. ("Put your hand there, up a bit, no not there!") She was good at getting us to pose, and it'll be interesting to see how they come out. Sara and I are notoriously bad at posing together; and getting us simultaneously ungoofy is a near impossibility (see Hawaii photo below).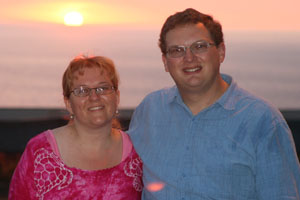 After eating dunch (or linner) I raced back home, hoping to get some duvet/comforters washed for my visiting family. But I checked the flight schedule, and decided that mopping the floor would be a better use of time, because the direct flights sometimes arrive early. It didn't, but I got a clean floor.
Dad has discovered that I don't have any decent coffee.