For those of you seeking to relive the awe, wonderment and confined space of performing in Gilbert & Sullivan's 'The Grand Duke' sitzprobe, I present:
The Grand Duke Lyric Theatre sitzprobe recordings!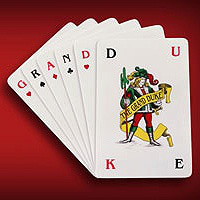 (In Dropbox, select Download as .zip, or see below for individual songs.)
As recorded by Lyric Theatre, summer 2013, at Miller Middle School music room.